Enhance the quality of production and product quality at a reasonable cost for each customer by applying robots in manufacturing processes.
Integrating robots into sculpting applications is becoming more popular and standardized day by day. The effectiveness of robots has become more apparent in recent years. Automation helps product quality and processes to be standardized and stable. Improve factory production productivity, save time and cost on each product.
Sculpture has long been an artistic and laborious undertaking, requiring people to take many years to become a skilled sculptor. And the time to complete a product also takes a lot of human effort. But with the great development of technology and robot application today. Using robots to replace humans has become much easier and more efficient.
Products from different materials such as stone, wood, plastic, foam… are handled by robots and specialized tools. The special thing is that the system reads 3d files of the sample product, is processed by the software and generates the robot's profiles automatically. Because for a sculpting system, to create a complete product requires hundreds or thousands of points, and teaching robot points by hand is impossible.
Besides software processing technology, programming from 3D files. Other important factors such as the turntable and automatic tool change make the system more flexible and efficient.
RobotNext with a team of engineers who have undergone various large and small projects in the application of sculpting robots has full capacity and experience as well as product and application understanding. We are confident to meet the needs of the factory in the most efficient way.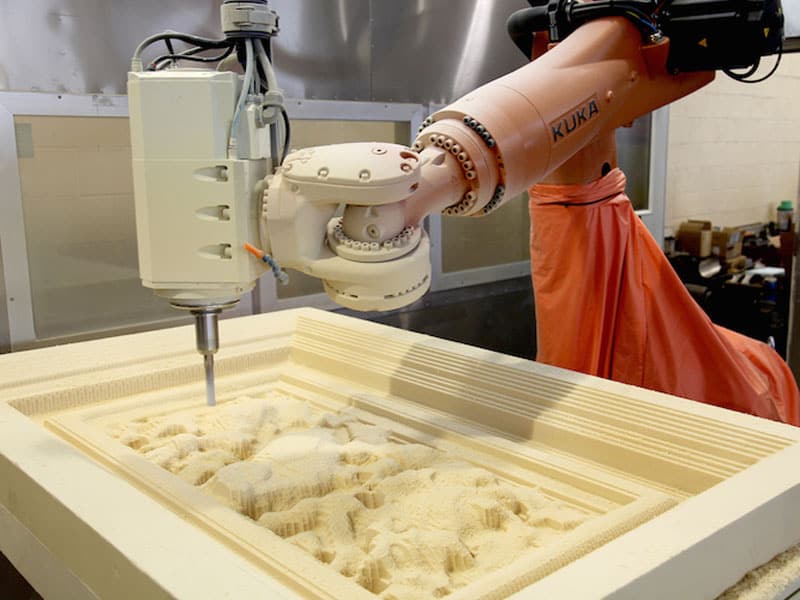 Robot
Accessories
Intelligent technology
We offer the best solutions based on the right models for each application and product.
The equipment needed for machine tending robot systems
Tool changer
RobotNext provides tool changers for robotic arms ingrated with applications such as pick & place, sculpture and grinding
Turn table
RobotNext provides various types of turn table for robotic applications, especially applications of welding, painting and sculprure
High Speed Spindle
RobotNext provides high speed spindles for applications of sculpture and milling
Advanced technology solutions and software
3D Programming
RobotNext offers movements programming solution for robot based on products' file 3D, especially for applications in milling and sculpture
Offline Simulation
RobotNext offers automation system solution with robot for operation processes simulation that is close to realities.